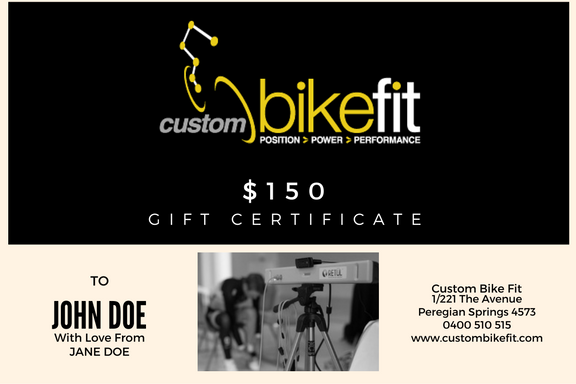 The Easy Xmas Gift – A Custom Bike Fit Gift Voucher
Looking for quick, easy Christmas gift ideas?
A Custom Bike Fit Gift Voucher is the solution.
Christmas is just around the corner and, if you're like us, you have better things to do than brave shops trying to find that perfect gift.
Delight the bike lover in your life with a Custom Bike Fit Gift Voucher.
The voucher can be used for a fit on an existing bike, a fit to help select the perfect new bike, or for items such as a new saddle or set of aero bars.
The BEST part is you don't have to even get out of your chair to buy our vouchers.
Simply give Michael a call on 0400 510 515 or email [email protected] and we'll send the Gift Voucher straight out to you.
Our Gift Vouchers are available in all denominations from $50 to $500 so you get to choose exactly how much you want to spend.
So, avoid those Christmas crowds . . . and have a GREAT CHRISTMAS! The Custom Bike Fit Team.