What Is It?
A remote, or virtual bike fit, is a bike fitting service where the 2 parties (fitter and client) are in different geographical locations.
What Services Are Offered?
Fitting on a current bike is the most common service that I am asked to deliver remotely.
Breaking down the numbers I'd estimate 70% of those fits are for triathletes and 30% for road cyclists.
Another service I deliver remotely, is helping people select a new bike. Typically that's a pre and post fit service – I will look at a rider on their current bike, dial in the position and then, based upon the fit measurements and other pre-established factors – make recommendations on new bikes and the specific build of those bikes – frame size, crank length, bar width, aero bar type, saddle, etc.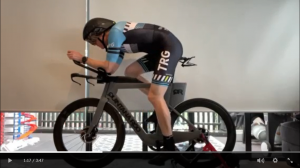 The picture above is an example of the outcome of a pre and post fit engagement.
After fitting this client on his original bike (a large Specialized Shiv) I made recommendations around a couple of bikes that I thought would suit him both biomechanically and in relation to the type of riding and racing he's involved in – namely long course triathlons. The bike he settled on was the Quintana Roo PRSix2.
How Is This Done?
The remote fitting process is a joint effort. I have my clients film and upload pre-determined video clips of them riding on an indoor trainer, as well as a video overview of the bike and pictures of shoes and cleat position. This is in addition to completing a rider history form or pre-fit questionnaire.
All of this information is uploaded to a shared Dropbox folder where all content relating to the fit is stored and available to both parties.
After studying the information provided – both written and visual, I make recommendations (where necessary) around changes to the bike setup. Usually 1 or 2 changes to start. The rider makes those changes in their own time, get's back on the bike and rides, sends me another clip and feedback on how those changes have impacted their feel on the bike – comfort, power, etc.
Often there are a number of iterations – that is to say, we go back and forth a few times, and, if necessary, I will schedule a live video call. That said, 99% of all changes are made at the clients leisure.
The process may take a couple of days or it may take a couple of weeks.
We close the fit off when both parties are happy.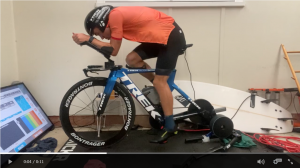 Above – Tim Reed – 2016 IM70.3 World Champion whom I worked with over video in Jan 2021.
Tim's feedback – "this is the best I've felt on the bike in years"
Who Is This For?
The remote, or virtual fitting service is for anyone who's unable to get to me in person. If you need my assistance, whether you're 'local' but unable to leave home, interstate or overseas I'd love to help get you set up correctly on your bike – to eliminate pain, increase comfort, optimize power, efficiency speed and maximize your enjoyment on the bike.
What Does It Cost?
The Remote / Virtual Fit for your current bike is $196
The Pre & Post Remote / Virtual Fit for a new bike selection, recommendations is $297
To book your fit, please  call Michael on 0400 510 515 or email him at [email protected]
What Do I Clients Have To Say?