Penny Palfrey was a competitive pool swimming during her teenage years in England, in the 1970's. After emigrating to Australia she spent more time in the open water and was selected to represent Australia in marathon swimming (25k) in 1993. Penny also participated in masters swimming and held six masters world records in 400m, 800m and 1500m freestyle in the 35-39 and 40-44 year age groups.
In 2006 Penny swam the Cook Strait in New Zealand and the English Channel. This was the start of a decade of challenging swims and races around the globe, resulting in numerous wins, world firsts and world records. Penny was inducted into the International Marathon Swimming Hall of Fame in 2009.
More recently Penny has shifted her sporting focus to include running and cycling. Concentrating on aquathon to begin with, Penny came 2nd in her 50-54 year age group at the World Multisport Championships in Cozumel, Mexico in 2016 and first in the 55-59 years age group in Penticton, Canada in 2017.
Penny has a wealth of experience in open water swimming and has graciously offered to share her top tips on open water swimming.
Open Water Swimming. Three points with three tips – by Penny Palfrey.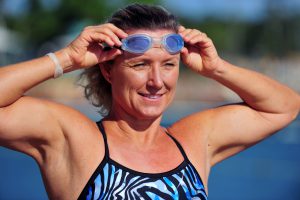 Goggle tips –
Invest in a good quality pair of goggles.
You can check whether a pair of goggles will be a good fit by gently pressing the goggle seal onto your face, if the goggles stay on your face without the strap or with a loose strap they're likely to be a good fit and not leak.
Goggles fogging up? I find the best anti-fog is a little bit of saliva. Lick or spit, that's your choice, then a quick wipe around with your finger, dip the goggles into the sea or pool and that should prevent your goggles from fogging up. Goggles still fogging up? One drop of baby shampoo into each lens, rinse with fresh running water. Goggles should now stay clear when swimming. Goggles still fogging up? Could be time for a new pair?
Consider tightening up your goggles a little on race day, especially when the conditions are rough, or when you'll be swimming in or out through the surf.

Sighting – Sighting whilst swimming in open water/triathlon is a very important skill to learn. You can practice sighting in a pool, but practicing in open water is better.
When sighting while swimming you only need to lift your head enough for your eyes to be above the surface of the water. There's no need to lift your entire head out of the water! If you do, your hips and legs will drop, and you'll lose forward momentum.
Tips for sighting –
As mentioned before you only need to lift your eyes out of the water, I like to call this "Crocodile Eyes". The best time to do this is just after your hand enters the water in front of you. As you pull down into the water you can use this purchase on the water to slightly lift your eyes above the surface. As you pull through allow your chin to follow the line of your hand under the water then take a breath to the side at the end of your stroke looking back underneath your shoulder. Getting your sighting smooth and efficient will save a lot of time and energy during an open water swim.
It's a good idea, when possible to get a sight on something larger than the turning buoy. For example if you're swimming a rectangular course, you may be able to swim to the first turning buoy during a warm up. From there, stop and take note of where the next buoy is, then look beyond that buoy. Is there a landmark you can line up behind the buoy? When the race starts, it's often much harder to pick out the buoys with all the swimmers and water safety personnel on the water. You can then use that landmark as a guide until you're closer to the buoy and it becomes easier to see.
If there's a large swell it can be very difficult to see the buoys (or anything else). The solution is quite easy, wait until you're on the top of a wave, then sight. It's much easier to see from up there!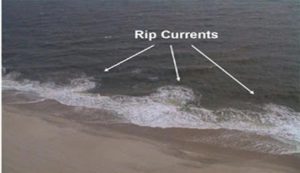 Pre-race swim – It's always a good idea to do a pre-race recce swim if possible. Try to arrive at the race location a day or so before your event. Check out the swim course maps and location especially the entry and exit areas. If you're unfamiliar with a beach chat to the local lifeguards. No one knows beach conditions like the local lifeguards and they're always happy to assist if you have questions.
Things to look for; rips, sweeps, sandbars, rocky areas and holes in the entry and exit areas.
Think you'd like to catch a wave to shore? Check that the wave isn't a dumping shore break. And make sure you're wearing a tight suit, if you get your tri suit full of sand whilst surfing a wave to shore, it's not going to be much fun during the run leg! It's sometimes better to pull out of a wave by lifting your head and dropping your hips and allowing the wave to roll past.
If you're nervous about an open water swim, try to tee up a swim with someone who's confident in the open water to do a pre-race swim with you. Ask them to swim out with you, do a short swim with them and then swim back into shore. You'll feel far more relaxed on race morning if you can do this the day before your race.
Three thoughts to remember – RAN
REMEMBER to pack your race equipment in your hand luggage when flying.
ALWAYS be courteous to other athletes, we're friends and family J
Nothing new on race day!